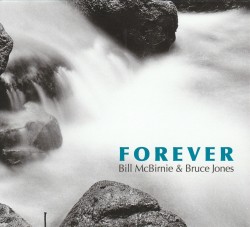 Forever
Bill McBirnie; Bruce Jones
Extreme Flute EF09-EP (extremeflute.com)
This is the third Extreme Flute release, and on this new musical salvo, all of the compositions were penned by Bruce Jones, who also produces, performs on guitar, percussion and synths. Co-producer Bill McBirnie performs masterfully here on flute and alto flute, along with Robin Latimer on electric bass. As COVID was in full throttle during the actual recording of this CD, the production process was complex, and involved countless exchanges of sound files between McBirnie and Jones. The material here has a lovely Brazilian bent – purposely chosen by McBirnie and Jones for the music's healing and optimistic properties in a time of global pandemic.
First up is Criole Blessing (Saravá Criola), a lilting, reggae-infused samba that generates pure joy and features gymnastic soloing from McBirnie and a potent rhythmic background from Jones. Also a stunner is the legato and sensual samba, dedicated to McBirnie's wife, Song for Svetlana (Um Choro Para Svetlana) which is rife with lovely exchanges between alto flute and guitar.
Of special mention is the delightful, contemporized bossa, It's the Time (Saber Se Amar) in which McBirnie soars over the chord changes and rhythmic patterns of this thoroughly elating tune, and also Dreams and Light (Canta Canção) a beautiful balladic bossa with a thrilling rhythmic backbone and mystical percussion.
The closer, Full Moon Blue Wolf (Lua Cheia Lobo Azul) features deep Brazilian-inspired vocals by the multi-talented Jones and McBirnie's dynamic and elastic soloing in concentric circles of melody and percussion.