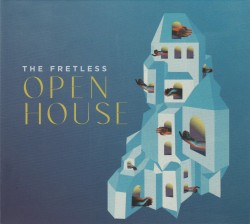 Open House
The Fretless
Birthday Cake BDAY037CD (thefretless.com)
Canadian Juno award-winning string quartet The Fretless is Trent Freeman (fiddle/viola), Karrnnel Sawitsky (fiddle/viola) Ben Plotnick (fiddle/viola) and Eric Wright (cello). Each member is a technical and musical virtuoso. Together they transform stereotypical classical ensemble instrumental and roots music sounds into new sonic forms. The Fretless continue their musical explorations in this, their sixth release, collaborating with vibrant powerful singers on ten tracks of carefully chosen, arranged, performed and produced covers.
The arrangements are clearly influenced by a wide range of styles. Retrograde, featuring Ruth Moody, is a slower work with held string notes, melodies and plucks colourfully mixing with Moody's vocals and closing humming. Dirty Work is a short dramatic new take on the Steely Dan tune with Freddie & Francine singing fast clean vocals against repeated instrumental grooves and a guitar solo reminiscent background strings. Less intense instrumentals put the spotlight on The Bros. Landreth singing their own Let it Lie, another more straightforward roots rendition. Alessia Cara's Stay gets upbeat, rocking wailing by Nuela Charles as the quartet supports with repeated chordal textures and held low-note swells. Closing track Fall Away Blues, with guests Red Tail Ring, including its composer Laurel Premo, has classical music reminiscent of background strings and countermelodies until a fast flourish mid-section with a bit of welcome instrumental improv showcasing the quartet's diverse talents.
Thank you to The Fretless for providing the vocalists the opportunity to develop and record songs with them. Outstanding music.