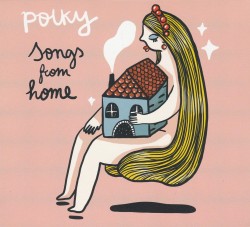 Songs from Home
Polky
Independent n/a (polkyband.com)
Polky – "Polish women" in English – is a Canadian folk band started by three Polish-Canadian musicians, singer Ewelina Ferenc, dancer/singer Alicja Stasiuk and multi-instrumentalist Marta Solek. This is their first full-length recording and the six-piece band, with four special guests, energetically perform uniquely passionate music drawing on their Polish musical roots, various Eastern/Central European musics and that of the multicultural Canadian setting they call home for their musical influences.
Featured are nine Polky arranged/composed traditional Polish compositions. Opening track Hej z pola z pola is an eloquent introduction with Ferenc's written chantlike vocals above guest Wojciech Lubertowicz's haunting duduk drone. Then an upbeat fast polka change of pace in an arrangement of traditional Polish Oj Musialas. Vocal solo, choral full answer, energetic vocal squeals, full bass and drum cymbal rings add to its fun feel. Slow instrumental start, full vocals and sudden shift to fast polka in Jewish Polka, with Georgia Hathaway's violin and Tangi Ropars' accordion adding to the joyful sound. Rain, one of two original tunes, is composed by Solek. String plucks, repeated wind notes, bass groove and vocals build to final quiet instrumental rain drops. Bassist Peter Klaassen drives and holds the band together in the closing more traditional upbeat polka rendition of Wishing Kasia with his strong groove supporting group vocals and alternating instrumental solos to the closing loud accent.
Polky musically incorporates the love of all their homes' traditional music into their own luminous original sound. Canadian Folk Music Awards 2022 nominations in three categories!