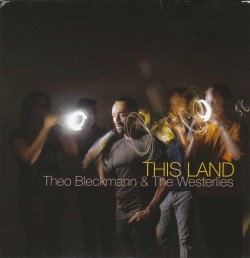 This Land
Theo Bleckmann & the Westerlies
Westerlies Records (thewesterliesmusic.bandcamp.com/album/this-land)
The Westerlies are an inventive brass quartet based in New York (though the members are childhood friends from Seattle) and their music is a mixture of jazz, roots and chamber music (imagine Stephen Foster and Aaron Copland meeting Miles Davis at a church social). This Land is their fourth release and is a collaboration with German singer and composer Theo Bleckmann. The album is a meditation on their shared country of America and includes spirituals, Bertolt Brecht, four Woody Guthrie songs, a stark and arresting version of Joni Mitchell's The Fiddle and the Drum and several originals. Mitchell's anti-war song is followed by Land, which is trombonist and composer Andy Clausen's somber setting of Agha Shahid Ali's poem about immigration, the past and present and America and India. This is followed by a wistful, yet rousing, instrumental version of Guthrie's Two Good Men (check this performance out on YouTube). Then we have Bleckmann's Another Holiday which begins with the lyrics "It's barbecue and pie, the kids will run around, and I'll sit on the side... ." With its minimalist brass accompaniment and ambiguous lyrics the song manages to be both optimistic and sinister at the same time.
This Land is a thoughtful and engrossing collection of 15 works which play off one another to create a fascinating concept album about a turbulent America. The heavy dose of Guthrie proves that the past is always with us in the present. The performances are excellent and the combination of voice and brass is highly original. The Westerlies continue to innovate and push far beyond what we might expect from the description "brass quartet."