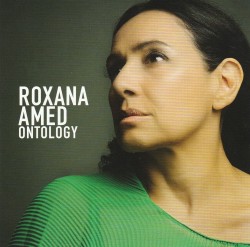 Ontology
Roxana Amed
Sony Music Latin 19439860962 (roxana-amed.com)
With her seventh release, producer and iconic Argentine folk/rock/jazz vocalist and composer Roxana Amed has manifested a musical project that plumbs the very depths of her identity as a creative artist – as an Argentinian and also as a Floridian, living in the politically bisected United States. The CD title, Ontology, refers to a branch of philosophy that studies deep concepts such as existence, becoming and being, and how entities/energies of different groupings manage to co-exist. Recorded amidst the COVID-19 pandemic at the world-famous Hit Factory in Miami, Amed has conducted her own esoteric exploration, incorporating primarily her own compositions and framing her pieces with an exquisite quintet, variously featuring Martin Bejerano on piano; Mark Small on sax; Tim Jago/Aaron Lebos on guitar; Edward Perez/Lowell Ringel on acoustic bass; Carlo De Rosa on electric and acoustic bass; and Rodolfo Zuniga/Ludwig Alfonso on drums.
First up is Tumbleweed – an inspired piece, conjuring up motifs of the cinematic American ancient West. Amed's silky, dusky, powerful instrument crawls through the remote desert scenario and creates beauty in the seemingly unending, isolate topography of the Western states, while the ensemble dips, swings and sways with acuity and intention.
A stellar standout is Chacarera para la Mano Izquierda – this sumptuous, sexy, enhanced rural tango features a spine-tingling solo from Bejerano and thoroughly lovely and agile scatting from Amed. Additionally, the title track is so rich and compelling that it's of little importance what language this gifted communicator is using. Danza de la Moza Donosa is a lightening quick, solid, bebop-ish jazz composition featuring Amed's supple and potent chops. Without question, this is one of the most original and well performed jazz-related vocal CDs of this year!