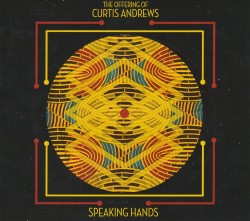 Speaking Hands
Curtis Andrews
Independent (curtisandrews.ca)
Among the first reviews I wrote for The WholeNote was The Offering of Curtis Andrews (December 2009). "I've been … bopping around the apartment to this joie de vivre-filled CD by Curtis Andrews, Newfoundland's globe-trotting percussionist and composer," I enthused. "The music [draws] from Andrews' studies in South Asian, West African and North American music … [merging] all those influences in an energy-rich field, couched in mainstream jazz forms and improv-rich solos..."
Relocated to Canada's West Coast, Andrews has continued his musical journeys inspired by those same global elements. And he's joined on his sparkling new album, Speaking Hands, by 20 talented musical colleagues from across Canada, USA and Africa. Manifesting a mature musical voice, this sophomore release features nine Andrews' compositions and one by Carnatic percussion master Trichy Sankaran, their tricky metric landscapes negotiated with aplomb by the Vancouver-based ensemble, The Offering of Curtis Andrews. Though recorded last year, Speaking Hands reflects two decades of travel, study and collaboration with master musicians on three continents.
Andrews' compositions intertwine "rhythms and polyphonies of vodu-derived traditional music of West Africa, the micro and macrocosmic play of time and pitch found in Carnatic traditions of South India," and jazz harmony and improvisation. It's the novel intersection of all these seemingly disparate elements into a cohesive and high-spirited musical statement that marks the album as something special.
The album title? Andrews explains it was inspired by the practice of the Carnatic recited rhythmic language known as solkattu. "It is the voice that gives rise to rhythm before the instrument does… the hands 'speak' what the voice (mind) creates." This album certainly speaks to me.