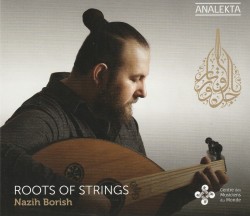 Roots of Strings – The oud at the crossroad of Arabic, flamenco and Indian music
Nazih Borish
Analekta AN 2 9173 (analekta.com/en)
Syrian-born Nazih Borish is a respected oudist and composer. While establishing and running his Syrian oud school, this already-renowned artist began to expand and embrace a wide variety of musics, including Arabic, flamenco, blues and jazz. In 2016, Borish arrived in Canada, where he seamlessly continued his international work as a composer and performer. On this energized program of original compositions, Borish has collaborated with two equally accomplished and gifted artists: bassist Roberto Occhipinti and acclaimed world-music percussionist (darbuka, req, ketim and dahola) Joseph Khoury.
Every well-produced track underscores the one-ness of mankind. From the most elemental bass notes of Mother Earth's heart to the intensity of shared human emotional experience – this recording is a journey of profound meaning. The opening track, Nazihawand (Nahawand taksim), is a resonant, mystical composition… with sonic elements that are steeped in human experience – sounds from a timeless place, in a place-less time – eventually segueing into a wider, more languid sequence, punctuated in an inspired way by Occhipinti and Khoury.
The title track is heady with exotic spices, exploring the deep and ancient relationship between the indigenous music of Spain, Iberia, Portugal, the sub-Continent and the Arabian peninsula, followed by Ataba (Bayat taksim) – deeply moving, with rich, lustrous tones; the facile skill of Borish is breathtaking. I can hear this universal music echoing off the walls of the Blue Mosque, the Taj Mahal or Carnegie Hall! Ali Baba Dance is a stunner – and Damasrose (Rast samai) is a sensual, Masala-flavoured trip, displaying complex string technique by Borish, all the while expressing the subtleties of several different instruments of antiquity – even hints of the Japanese koto.