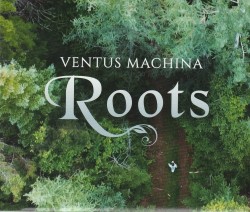 Roots
Ventus Machina
Leaf Music LM239 (leaf-music.ca)
Ventus Machina is a classical wind quintet based in New Brunswick which makes "excursions" into other genres. Roots is an inventive album containing arrangements of folk songs, fiddle tunes, Celtic music and a few iconic Canadian singer-songwriter staples. The majority of arrangements are by James Kalyn who plays clarinet and saxophone in the group. The album begins with Our Roots Medley which has five movements including an arrangement of some of Bach's Goldberg Variations (The Goldberg "Variegations"), a Swedish folk song (Koppången) and Gordon Lightfoot's The Wreck of the Edmund Fitzgerald. Kalyn's arrangements are complex and use the full acoustic and technical resources of the quintet to present a unique perspective on these diverse selections. The Goldberg "Variegations" are quite contrapuntal, while Edmund Fitzgerald uses a majestic French horn to announce the theme amongst the other swirling instruments.
Bird on the Wire has Kalyn playing bass clarinet, tenor saxophone, singing and using slap tongue techniques for rhythmic purposes. On Joni Mitchell's The Circle Game the quintet is augmented by the Atlantic String Machine and a small children's choir. For the three fiddle tunes, Traveller's Breakdown, Doin' Repairs and Calm Before the Storm, they are joined by the composer Ray Legere, playing fiddle and mandolin, with Christian Goguen on guitar; the music gets lively.
The underlying delight present throughout Roots is having familiar music reinvented in an unusual and intriguing context. This is Ventus Machina's second album and I look forward to more musical adventures with them in the future.