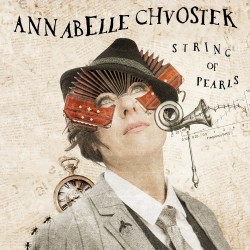 String of Pearls
Annabelle Chvostek
Independent (annabellemusic.com)
It has been six years since JUNO-nominated, versatile singer/songwriter Annabelle Chvostek released a recording. The reason being is that Chvostek suffered significant hearing loss, the result of a massive feedback blast during a soundcheck. This would be a challenging experience for anyone – let alone a musician. This new CD is a direct result of Chvostek's desire to create a project that would be enjoyable and accessible to those with hearing loss – and in keeping with this directive, she decided to produce an alternate monaural version of the recording specifically for people with hearing issues, available digitally at annabellechvostek.bandcamp.com.
There are three co-producers on String of Pearls: Chvostek, David Travers-Smith and Fernando Rosa, two of whom are hearing impaired. Rosa was born deaf in one ear, and by 2015 Chvostek was also. Through his brilliant engineering (and excellent hearing), Travers-Smith has created crisp, bright, satisfying digital tracks in stereo, and also in monophonic sound, a modality long gone but lovingly repurposed to allow people to experience the music in a new, authentic way. Joining Chvostek on this journey is a large cast of uber-talented characters, including violinist Drew Jurecka, guitarists Debi Botos and Tak Arikushi, vibraphonist Mark Duggan, bassist Rachel Melas and drummer Tony Spina.
The majority of the material here was written by Chvostek, with the exception of a tasty Tom Waits tune, Just the Right Bullets, rendered with a highly creative "High Noon" horn-bandoneon-percussion-laden interpretation. The title track boasts a clever lyric that eloquently explains Chvostek's journey, with a bit of a nod to the Boswell Sisters. Huge standouts include Je T'ai Vue Hier Soir (I Saw You Last Night) – an unabashed love song, performed in gorgeous, sibilant French and perfectly presented in a "Hot Club de France" style. Violinist Jurecka shines here, out-Grappelli-ing Grappelli! Also the sumptuous Firefly (You Just Love), replete with a delicious arrangement and equally delicious performances from Chvostek and the ensemble. Easily, this recording is one of the most enchanting and innovative of the year.