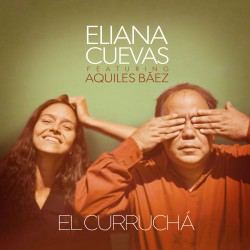 El Curruchá
Eliana Cuevas featuring Aquiles Báez
Alma Records (almarecords.com)
With her sixth release, luminous Toronto vocalist and composer, Eliana Cuevas, has crafted a celebration of Venezuelan music and culture – replete with fresh, creative, acoustic arrangements of much-loved Venezuelan popular songs. This song collection (from primarily the past 30 to 50 years) reflects traditional Venezuelan music as Cuevas experienced it on the radio, and in singing and playing with her family and friends growing up. A solitary voice and solo instrument duo is a bold choice – but a powerful one, and is a manifestation of the type of recording, instrumentation and content that Cuevas had envisioned. In an inspired pairing, Cuevas is joined by iconic, internationally respected Venezuelan guitarist, composer and national hero, Aquiles Báez.
The title track has special meaning for Cuevas, in that her late father frequently grabbed his cuatro and launched into this tune at family gatherings. Written in 1928 by Juan Bautista Plaza, this folk song was written in the joropo tradition, and is presented here at a quicksilver pace with Cuevas and Báez flying through space-time. Cuevas' breathtaking vocal skill takes the listener on a roller-coaster ride of emotions and intensity. Flor de Mayo is heartbreakingly beautiful and Caramba easily conveys its message of melancholy passion. Among the 13 delights here (well-produced by Jeremy Ledbetter), Báez has contributed one original tune, the delightful San Rafael (one of the most exciting tracks on the recording), and Cuevas contributed a fresh, more elemental version of her previously recorded composition, En un Pedacito de tu Corazón.
Other triumphs include Acidito, where Cuevas' sumptuous, warm, pitch-perfect voice and stunning, sibilant Spanish connects with Báez's sonorous and dynamic guitar work on every level. The musical, interpretive and artistic skill of Cuevas and Báez on this recording surpasses any written descriptives, and welcomes us "con un abrazo grande" to lavish in the full spectrum of the diverse musics of Venezuela.