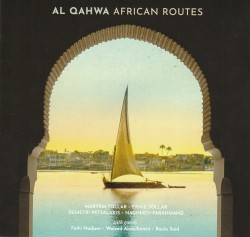 African Routes
Al Qahwa Ensemble
Independent AlQahwa02 (alqahwa.ca)
Talented world music group, Al Qahwa Ensemble, has just released their third exceptional recording. The diverse musicians are all based in Toronto: Maryem Toller on vocals and riqq (Arabic tambourine) and qanun (Arabic table harp); Ernie Toller on wind instruments; Greek/Canadian Demetri Petsalakis on oud (Arabic fretless lute) and Iranian/Canadian Nagmeh Farahmand on Middle-Eastern percussion. The group's esteemed special guests include Waleed Abdulhamid, Fethi Nadjem and Roula Said.
The program begins with Marrakesh – which was inspired by the all-female ensemble, B'Net Marrakesh. Having seen them perform, Maryem utilized their unique chant "Hey Hey Hey Hey" in this piece, which instigates an incendiary energy through call and response, hypnotic rhythms and dynamic, mesmerizing vocals. Also thrilling is The Rain/Il Matar – a musical telling of the story of a sudden, brief storm across the land, driven mercilessly by the relentless 12/8 of the dumbek as well as interlacing, dynamic vocals and funkadelic bass lines, moving in unison.
Another delight is Bahia Out – a traditional Egyptian folk song about a woman with beautiful dark eyes who kills a man with those same eyes while riding a camel – a sensual, provocative trip, where one could easily imagine the air filled with exotic spices. Precise and thrilling vocals propel this caravan through the oasis!
Peace/Issalam has a euphoric intro, which segues into the deep groove of Mother Earth herself. Cairo/Al Qahira is the dynamic closer – composed by Petsalakis with lyrics by Cairo-born Maryem, this delightful tune includes the hilarious insertion of a little excerpt from an old Egyptian movie, Khally Balak Min ZouZou. The ensemble explodes into a wild pentatonic jam with the sheer joy of the music. The track ends with a primal percussion segment that could restore us all to the very dawn of time itself.