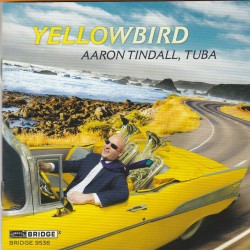 Yellowbird
Aaron Tindall; Shelly Berg; Chuck Bergeron; Svet Stoyanov; Brian Russell
Bridge Records 9536 (bridgerecords.com/products/9536)
I have been fortunate to have been in a position to observe the meteoric rise in the abilities of tuba players in the last 50 years and it has been a bit like watching the Olympics for the same length of time: Just when you think that no one will ever run faster, jump higher or throw further, someone comes along and does just that.
So it is with this new release – called Yellowbird – from American tubist Aaron Tindall. This CD would best be described as "easy listening," not a term I'm fond of, but considering that there are very few solo tuba CDs with music of this nature, the usage seems apt in this case.
The inspiration for the recording comes from one of the pieces, The Yellow Bird, for tuba and rhythm section by LA composer and studio guitarist, Fred Tackett. It was suggested to Tindall by tuba legend Roger Bobo, the original performer of the piece, that another take on the work was warranted since the original Bobo recording was from the 1970s. Time indeed – I had Bobo's LP in my formative years and wore it out!
A beautiful jazz ballad called The Peacocks by Jimmy Rowles starts things off, but the centrepiece of the CD is a tuba version of Claude Bolling's Suite for Cello and Jazz Piano Trio. At over 45 minutes long, it is the most substantial work on the CD, and it is here that Tindall really demonstrates his considerable artistry and mind-blowing technique. Highly recommended.