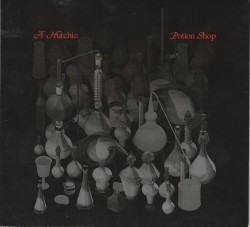 Potion Shop
A. Hutchie
Cosmic Resonance Records CR-006 (ahutchie.bandcamp.com)
In another time and place A. Hutchie – short for Aaron Hutchinson – might easily have been a medieval apothecary, wandering the forests in search of herbs and roots with which to create all things magical. However, in today's world, he has been incarnated as a peripatetic musician, author and creator of this suite of atmospheric music, appropriately titled Potion Shop.
This repertoire has been developed into an individualistic, difficult-to-classify personal genre. Here, as is customary for Hutchie, roots in, and branches from, jazz often surface, but there is so much else going on: Hutchie skilfully, imaginatively and (by and large) subtly mixes elements of electronic music, rock and contemporary composition together, all of which also nods to noise music, rap and hip-hop rhythms. Although most pieces develop from beguiling, elegant melodies, what makes them so special is Hutchie's way with arresting textures and colours.
These sonic creations simulate mental pictures of mysterious narratives evoking the work of such chroniclers and visionaries as the painter Edward Hopper or film director David Lynch, yet they are always distinctively part of Hutchie's own soundworld. Everything comes together to add a very special grace to this music. Yet, somehow, none of it would sound quite so special if not for the vocals added on top of everything else. In this regard Unconditional Love with Blankie, I Fell for the Moon with Sarah Good and Villain with Benita Whyte make for absolutely memorable listening.