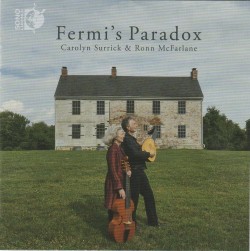 Fermi's Paradox
Carolyn Surrick; Ronn McFarlane
Sono Luminus DSL-92244 (sonoluminus.com/store/fermis-paradox)
When the Beatles' original bassist, Stu Sutcliffe, decided to leave the group in 1961 to attend the Hamburg College of Art, the band suddenly found themselves without a bassist. Guitarist and vocalist Paul McCartney stepped up, and in short order established himself as one of the most iconic and original bassists in the history of popular music. Necessity truly is the mother of invention!
I was reminded of this bit of history when listening to, and researching, the beautiful new recording, Fermi's Paradox by Carolyn Surrick (viola da gamba) and Ronn McFarlane (lute). Gearing up for a scheduled 2020 performance tour the duo's concertizing plans were furloughed as COVID cancellations came in fast and furious. Undeterred, Surrick and McFarlane continued to rehearse and embraced the process of playing their instruments for the sake of the music. Once again, necessity begets (re)invention.
This wonderful album is a success on multiple fronts. First and foremost, it offers a gorgeously recorded, sonically supreme capture of two (and sometimes three with Jackie Moran joining in on bodhrán) of the finest traditional instrumentalists playing an exhilaratingly rich and diverse repertoire that binds together traditional Irish, English and Swedish music with pieces by J.S. Bach, Duane Allman and the performers themselves. Secondly, the recording is a wonderful and inspirational testament to the importance of music.
While we increasingly read about a dependence on the creature comforts of food, alcohol and Netflix to stave off pandemic-induced existential dread, it is aspirational to read Surrick's inspiring words: She, McFarlane and Moran make music not because there is a current audience or concert tour pending but "because we can. We make music because the world needs music, our hearts need music. This is what we do in the face of isolation and despair. We are not alone."
Important words, I think, and a much-needed 2021 optimistic counterpoint to Milton Babbitt's oft-repeated line, "Who Cares if You Listen?" I'm sure Surrick, McFarlane, Moran and the Sono Luminus label will indeed find a caring and listening audience for Fermi's Paradox.