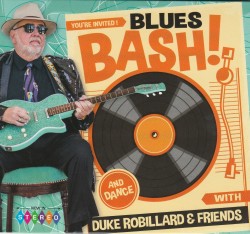 Blues Bash!
Duke Robillard & Friends
Stony Plain SPCD 1423 (stonyplainrecords.com)
Timelessness and veritas are the special building blocks of good art – especially the blues – because the blues is a form of music where the very nakedness of the soul is bared. It is also upon this foundation, somewhat contrarily, that a certain joyfulness is often achieved. The music of Duke Robillard has espoused these virtues for half a century and it continues to have these qualities in spades. It's why when you're invited to this Blues Bash with Robillard and friends, it's an invitation you must not refuse, or else you'll regret it.
This music is dappled everywhere with Robillard's poetic mellow, luminous – and sometimes weeping – guitar lines swinging in tandem with a magnificently rehearsed band, complete with mellifluous piano, sanctified organ, howling saxophones and topped off with two rumbling basses and a drummer playing rippling percussive grooves. The blues would be nothing if not for vocals that are cried (not sung) and there is plenty of that to cheer about here.
Vocalists Chris Cote on What Can I Do and Michelle Willson on You Played On My Piano are absolutely superb and that is only a sample of the electric charge in this music. But even without the vocals, this music sings. In this regard, and apart from Robillard's glorious guitar, it would be a travesty not to call attention (especially, though not exclusively) to Rich Lataille's smouldering saxophone performance on Just Chillin'.