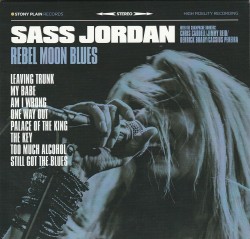 Rebel Moon Blues
Sass Jordan
Stony Plain Records SPCD1410 (sassjordan.com)
The visceral beauty – yes, such a thing is possible – together with the long-limbed melancholy of the blues, is what makes the music of Rebel Moon Blues by Sass Jordan a flaming masterpiece. Despite the fact that she hasn't made a recording in almost a decade, she has clearly been in top form throughout that period. Jordan indulges in what can only be described as a spontaneously intuitive unleashing of these melodies. There is no gratuitous ornamentation, no playing to the rock gallery; no fuss; just the raspy hardness of her vocals unfolding with enormous colour and emotion song after song.
There is never any room for shallowness with the blues and Jordan seems not only to understand that perfectly, but to find places to reach deep within her chest to deliver on the emotion that the songs demand. She is appropriately intimate on My Babe, relentless and unforgiving on One Way Out and rivetingly plaintive on Still Got the Blues. The reason she can breathe life into those songs and the others on the disc is because she seems to inhabit them as if they were hers and hers alone, despite the fact that other musicians actually penned these classic tunes.
Part of the allure of this recording comes from the fact that the musicians who support Jordan on her journey are fully attuned to her artistry. Together with Jordan they make this a recording to die for.