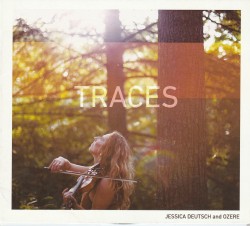 Traces
Jessica Deutsch and Ozere
Independent (jessicadeutsch.com)
The music of Jessica Deutsch on Traces may not appear to require a virtuosic, high-flying performance on the violin but make no mistake; it is diabolically difficult to play. There is great demand for atmospheric playing complete with subtle innuendo, dynamics and colour. Deutsch has this in spades and brings all of it to the repertoire on the album.
Each of the works – exquisite miniatures borne aloft by her lonesome violin, supported by mandolin or guitar, glued together by cello and contrabass, with occasional keyboards and voices – is laden with intimacy and an emotional intensity that can only be described as the poetry of feeling. Deutsch's performance throughout is lightly perfumed and evocative, especially in the slower songs, where her sensitivity shows best. The ephemeral Traces and The Bones of Clouds, with its wispy imagery not unlike the early poetry of Elizabeth Bishop, are superb examples of her playing.
Deutsch creates a perfect blend of delicacy and muscularity. Her ingenuity enables her to combine phrasing and touch with subtle shifts of emphasis that refashions phrases in an unexpected but utterly convincing manner. Her playing throughout, combined with cello and bass is highly redolent of the rustle of expensive raw silk. The rest of the group is completely harmonically and rhythmically entwined with Deutsch's artistry. Their performances are altogether remarkable, possessing sinewy vigour and dynamism which contributes to putting a unique stamp on this music.