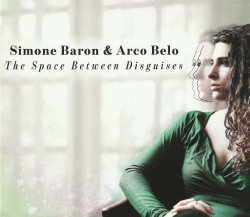 The Space Between Disguises
Simone Baron & Arco Belo
Independent GF0001 (simonebaron.com; arcobelo.com)
American pianist/accordionist/composer/arranger Simone Baron created her self-described "genre queer" seven-member chamber ensemble Arco Belo to perform styles ranging from classical to jazz to folk to world to new music. This debut release is a grounded creative quasi-work in progress performed with expertise. Co-produced with bassist Michael Pope and percussionist/drummer Lucas Ashby, Baron's music is eclectic accessible listening.
Baron is equally proficient in arranging and composing. Highlights include her opening track composition, Post Edit Delete, with lush string sounds opening, followed by her solo piano playing leading to a more jazz sound with solo violin. Its diversity is surprisingly not fragmented and introduces the listener to Baron's self-described musical "worlds as different gestures." Her Passive Puppeteer touches on many, never dissonant, ideas featuring her piano grooves and accordion runs supported by Pope's electric bass virtuosity. Love her three short Disguise Interludes with static electronic sounds and voice.
Baron's arrangement of Brazilian composer Tibor Fittel's Valsa, which features a lyrical accordion part with bass, full string section and traditional harmonies, shifts from sad to upbeat rhythmic tango. Baron's sensitive accordion performance here would benefit from more subtle dynamic variations but the high accordion pitches, trills and repeated notes at the end are colourful. World music sounds abound in her take on Béla Bartók's Buciumeana/Kadynja.
String players Aaron Malone, Bill Neri and Peter Kibbe, and percussionist Patrick Graney complete the band membership. Other special guests play here too and Baron's musical forecast shines brightly!