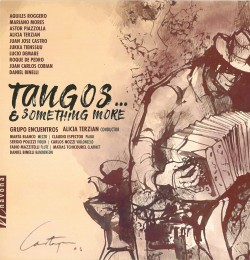 Tangos… and something more
Grupo Encuentros; Alicia Terzian
Navona Records nv6246 (navonarecords.com)
In 1979 , Argentinian composer/musicologist/conductor Alicia Terzian created the Grupo Encuentros whose international performances have brought Latin American and Argentine music to listeners around the world. Here, Terzian leads the ensemble in the evolving tango genre. She capably arranges familiar traditional tangos, such as the three Astor Piazzolla pieces, which maintain his rhythmic, melodic and upbeat tango feel. Roggero's Mimi Pinzon builds from calm to intense while Demare's 1940s tango Malena features a dramatic, interesting, closing fugue-like section.
Listeners wishing to hear the tango evolution will applaud the new works. Finnish composer Tiensuu's Tango lunar (1989) travels to the new music outer space, as tango lines sound against more electroacoustic washes, soundscapes, squeaks, use of spoken world and mezzo a cappella closing. Terzian's Argentino Hasta La Muerte has the opening bandoneon and mezzo swells, rubatos and accented notes so tight that it is hard to tell what the lead line is. Her Un Argentino de Vuelta is played with intensity and subtleties, including bandoneon vibrato and fast runs, flute interlude, clarinet repeated-note rhythms, quasi jazzy/Romantic-style piano solo and faster tango section. In his duet, Llamado de Tambores, composer/bandoneonist Daniel Binelli, with the mezzo vocalist Marta Blanco, tells a tango story with effects and emotional flourishes.
All seven performers are great tango interpreters able to change with the tango's decades-long developments. Wish there were English translations for the words. There is a bit of something for every tango taste to enjoy and explore.