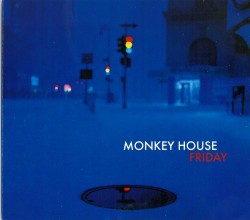 Friday
Monkey House
Alma Records ACD72692 (almarecords.com)
Monkey House has been together for 25 years and has just released its fifth album, Friday. The band is made up of some of the busiest and best players in Toronto – Mark Kelso on drums, Pat Kilbride on bass and Justin Abedin on guitar – but it is L.A.-based keyboardist and songwriter, Don Breithaupt, who's driving the bus.
Breithaupt is known for his adulation of Steely Dan, and while it shows in his songwriting on Friday, this isn't a tribute album and the band has a sound all its own. And, like Steely Dan, the musical style is hard to categorize – perhaps sophisticated pop tinged with jazz and R&B? I don't know. What I do know is that this is an exceptional album from beginning to end, with superb songwriting and performances, and impeccable production by Peter Cardinali with engineering by John "Beetle" Bailey.
Highlighting standout tracks when all 12 tracks are so strong is a challenge, but The Jazz Life – featuring Manhattan Transfer on backing vocals and a killer bass solo by Kilbride – is one. The love song that Breithaupt wrote for his wife, Because You, is another, especially since it is surprisingly unsentimental with its driving rhythm and complex harmonies. Another surprise is that the most ballad-y song on the album is the cover of Walter Becker's Book of Liars. Becker – who died while Monkey House was making this record, hence the inclusion of this song on the album – certainly wasn't known for ballads and this mid-tempo tune isn't sappy in the least. But it is both beautiful and poignant in typical sardonic Steely Dan style. Shotgun has pop hit written all over it and you can check out the fun video, produced by Academy Award-winner J. Miles Dale, on YouTube.