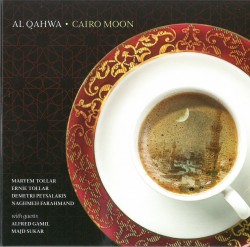 Cairo Moon
Al Qahwa Ensemble
Independent AlQahwa01 (alqahwa.ca)
Ernie and Maryem Tollar, master of wind instruments and vocals respectively, have been mainstays of the Toronto music scene individually, and also have often come together to make music. But rarely has their musicianship been showcased more beautifully than here, where they have combined with oud specialist Demetri Petsalakis for the second time as Al Qahwa, on their album Cairo Moon.
Apart from bringing to life the atmosphere of (usually loud) music and joyous camaraderie heard in coffee houses en route to Leipzig from Damascus, this recording also recalls the glorious tradition that gave us the likes of the great vocalists Om Kalsoum and Najah Salam, and instrumentalist Hamza El Din, among others. On Cairo Moon, the Tollars and Alfred Gamil display extraordinary musicianship in the Mediterranean tradition. More remarkable, much of this is new music; the tradition of popular Arabic music is alive and well and thriving in – of all places – Canada.
Equally significant is the fact that musicians such as the prodigiously-gifted Tollars are thriving alongside others such as Nagmeh Farahmand, Majd Sukar and the aforementioned Gamil and Petsalakis. The evidence is all over this album, in the exotic and ululating soundworld of the Middle East, robustly captured in the glimmering textures of Maryem Tollar's voice and the eloquent musicians immersed in the traditions that influenced this rich repertoire.