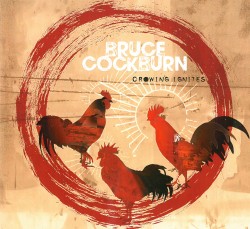 Crowing Ignites
Bruce Cockburn
True North Records TND737 (truenorth.labelstore.ca)
It has been 14 years since Bruce Cockburn first gave notice of what an extraordinary guitarist he really was on his first instrumental album Speechless. Until then he was better known as one of the great purveyors of what is generally classified as folk music. Of course, that classification is highly restrictive because Cockburn, as we all know, transcends the boundaries of that genre. Debates notwithstanding, Crowing Ignites is a perfect reminder of Cockburn's virtuosity as a guitarist, and of his exquisite musicianship.
There are seven new compositions here. Yet each appears to be a spontaneous meditation at once simple and lyrical, abstract and profound. Cockburn's magnificent tone – both on regular acoustic and acoustic baritone guitar is magnificent. With fingers and thumb he imbues every note with the purity of song. His playing is passionately free and bluesy, and speaks also of his country roots.
Cockburn's instinct for brooding lyricism and often for joyful spontaneity provides the perfect setting for songs such as April in Memphis, The Mt. Lefroy Waltz (with bassist Roberto Occhipinti, cornetist Ron Miles and drummer Gary Craig) and Sweetness and Light. When he turns his attention to matters of the soul and of spirituality, he paints his music affectingly with a myriad of deep and varied colours. Angels in the Half Light, Pibroch: The Wind in the Valley and (especially) Bells of Gethsemane are eloquent examples of the profundity of his musicianship.