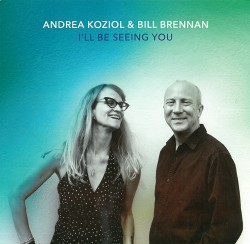 I'll Be Seeing You
Andrea Koziol; Bill Brennan
Independent AK-BB-01 (andreaandbill.com)
I'll Be Seeing You, a sharp selection from the jazz songbook, features Toronto vocalist Andrea Koziol and Newfoundland pianist Bill Brennan. They cover 13 of some of the best-known standards – sprinkled with their own songs – with nimble interpretative panache and sure musical taste. Toronto A-lister-musicians Andrew Downing on bass and cello and guitarist Joel Schwartz provide a firm foundation, plus a sympathetic harmonic and melodic framework.
Koziol's interpretations are assured and tone perfect. I was stuck by her attentiveness to the lyrical meaning of the intro verse in older songs like Fly Me to the Moon. In Stevie Wonder's strutting funky Tell Me Something Good she purrs, growls and ghosts her tone in several amazing ways. Is she perhaps channeling her inner Chaka Khan?
Koziol and Brennan generously share the musical spotlight, reminding us that their friendship reaches back several decades. That generosity of spirit extends to Schwartz. He gets a lovely sustained-tone lyrical electric guitar solo in Randy Newman's moody, thoughtful ballad I Think It's Going to Rain Today.
Brennan's piano work avoids cliché while nailing the feel of ballad, gospel, funk or up-tempo swing. He weaves unhurried, protracted extensions to songs like Tea for Two, moving far afield from harmonic home base, and provides exciting melodic and harmonic twists to Annie Ross' vocalese classic Twisted.
I'll Be Seeing You launched with concerts in Ontario and Newfoundland this summer. Judging from the glow emanating from this album I look forward to hearing Koziol and Brennan live in the near future.