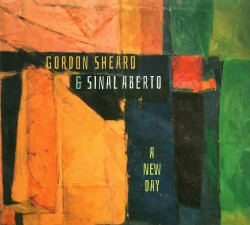 A New Day
Gordon Sheard and Sinal Aberto
Independent GSM003 (gordonsheard.ca)
As a self-described "Brazilian music freak," it's no surprise that Toronto jazz musician, educator and ethnomusicologist, Gord Sheard, has a group dedicated to playing Brazilian style music, Sinal Aberto. The name translates as "open signal" or "green light" and is a play on a Chico Buarque album called Sinal Fechado (closed signal/red light) made during an oppressive political time in Brazil (of which they've had many). So artistic freedom is the overarching sensibility for Sinal Aberto, and it shows in this beautiful collection of songs.
With a level of musicianship you'd expect from the top players in the country – Mark Kelso on drums and George Koller on bass, Sheard on piano – the band deftly blends jazz and Brazilian sounds (plus a few R&B and Afro-Caribbean elements) for a sound all their own. A New Day is mostly original songs written by Sheard with lyrics by Rio de Janeiro-native Luanda Jones, who features prominently on the album as the singer, too.
The album opens on a hopeful note with Samba de Primavera which, fittingly, speaks of being free and open to new experiences. (All of the songs are sung in Portuguese and many of them are helpfully translated to English in the CD booklet.) I love the energy and Jones' virtuosic vocal gymnastics on Forrocatu, which combines Northern Brazilian forro and maracatu rhythms at top speed and is somewhat reminiscent, to these ears anyway, of the great composer, Hermeto Pascoal. The beautiful and poetic title song, Mais um Dia, is another standout track. Bossa nova fans won't be disappointed as the band has imaginatively covered a couple of classics, including a soul-tinged version of my favourite, Dindi. The album is available from CD Baby: store.cdbaby.com/cd/gordonsheardsinalaberto.