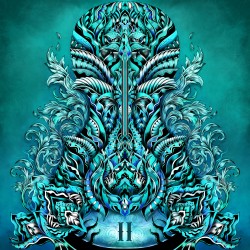 Kamancello II: Voyage
Shahriyar Jamshidi; Raphael Weinroth-Browne
Independent (kamancello.bandcamp.com)
The invented portmanteau word Kamancello serves as the name of the Toronto-based duo of Kurdish Iranian kamanche player and composer Shahriyar Jamshidi and classically trained Canadian cellist and composer Raphael Weinroth-Browne. Joining forces around four years ago they've taken audiences into transcultural musical territories as yet unexplored. They describe their music as "East-meets-West," rendering "improvised performances [that] transcend genres and cultural boundaries." But that's a modest appraisal of the rich journey they take us on in Kamancello II: Voyage, their second album.
Improvisation is undoubtedly present in abundance here, but there are also well-developed modal frameworks and formal structures at work too. There are four extended pieces titled Emergent, Tenebrous, Voyage and Threnody, each with a well-defined shape. They begin quietly without pulse, exploring ornamented melodies, slowly developing a polyphonic texture trough sensitive interplay between the musicians. The duo's seamless exchange of lyrical melodies is influenced both by the Kurdish and Iranian modal world as well as by the pre-modern classical cello repertoire. Each performance then segues to a dance-like section with Weinroth-Browne's virtuoso cello often providing the forceful accompaniment, performing fast-moving bowed climaxes accented by fortissimo bass notes. In places we're reminded of his progressive metal and neo-folk affiliations. That dense energy propels the music forward, providing welcome contrast to the stillness of other sections, a kind of a narrative arch.
Throughout, Jamshidi and Weinroth-Browne give each other a generous amount of breathing room to express the wide range of human experiences suggested by the track titles. On re-listening, it struck me how this music also gifts listeners the space to venture on our own inner journeys too.