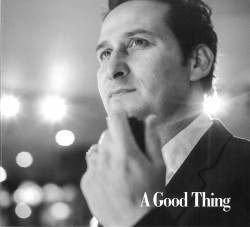 A Good Thing
Blue Standard
Big Time Records BTRCD-007 (downinthevalley.com)
It does not take much to become entranced by this disarmingly natural and eloquent performance by the duo that calls itself Blue Standard. Both vocalist Raoul Bhaneja and pianist Jesse Whiteley bring out the music's inherent drama with deeply felt emotion (in the case of the vocals) and deft touch (in the case of the pianist) together indulging each other's lyrical and storytelling instincts to the full. Bhaneja brings élan, intelligence and passionate engagement to these performances throughout A Good Thing. For his part, Whiteley is an immaculate accompanist, showing a particularly clean set of fingers in the dashing virtuosity of every song on the disc.
Bhaneja's enunciation of the lyrics is funded by a deep understanding of the characters in the stories told in song. He expresses the myriad of emotions behind the phrases in each song with clarity and precision so that each imaginative speculation is based as much on intuition as on reason. This naturally ensures that the lyrics are imbued with both musical conviction and beauty of tone. Meanwhile, Whiteley too, sniffs out all of the music's detail, expressing each in a manner thoroughly deserving of his virtuosic attention. The result is an energizing and colouristic invocation of the piano's full melodic and harmonic potential by someone who participates equally in the creativity of this session. For this reason even an old song, like LOVE for instance, sounds as if it were newly minted.