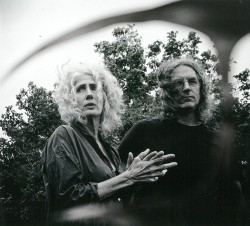 Vanishing
Fides Krucker; Tim Motzer
1k recordings 1K043 (1krecordings.com)
For 35 years Toronto-based classically trained vocalist Fides Krucker has explored contemporary vocal practice on the highest level as a singer in contemporary opera, interdisciplinary and electroacoustic works, as well as in chamber music and orchestral settings. Her career has taken her to numerous international stages. She's appeared on diverse albums and film and video productions.
The phrase I found on my search engine while looking for Krucker's website is, "emotionally integrated voice." And her performance on the six Vanishing tracks powerfully delivers just that. She projects a wide palette of emotions through her voice alone, employing vocal techniques that move comfortably between classical Western and extended voices, often without lyrics.
Krucker is superbly supported on Vanishing by Tim Motzer a veteran Philadelphia jazz/improvising guitarist with 80 albums to his credit. He is best known for his textural acoustic-electro guitar playing utilizing looping, bowing, sampling, electronics and various prepared techniques, all richly displayed on Vanishing. The album is cinematic in scope. In its spontaneously composed sonic world each scene in the undefined – sometimes airy and melodically lush, sometimes unsetting – vocal storyline is created though the intimate musical dialogue between Krucker and Motzer.
My favourite track is the epic-length Density, which according to the liner notes, "Broods on the state of the world, gathers weight with each motif, steps the listener outside of civilized sound." Some days taking a walk on the sonic wild side is what the doctor should order.