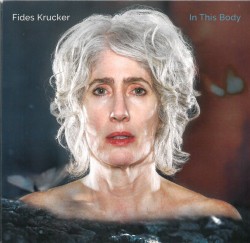 In This Body
Fides Krucker; Rob Clutton; Tania Gill; Germaine Liu
Independent FK-01-2018 (fideskrucker.com/productions/in-this-body)
Anyone who knows the multi-dimensional and multi-disciplinary work of Fides Krucker is naturally going to wonder how much of the dance and – more importantly – the theatre that defines Krucker's art this CD is going to capture. It is, after all merely audio. Fortunately, however, Krucker is a highly evocative vocalist and she spares nothing to imbue her music with atmosphere and even the nuanced auras of her often spiritual and always colourful work.
Even with the suggested stasis of the title, In This Body, one cannot help but imagine the body in motion. This is a work by Krucker, remember? True to form she creates a kind of series of one-woman operatic arias. Each is expressed in an inimitable manner which can only be associated by someone like Krucker. Her version of Leonard Cohen's iconic piece Suzanne is turned from something almost impressionistic-Cohenesque into a work of extraordinary sensuality in an almost Nabokov-like (Lolita) manner. Another wildly sensual track – Striptease – follows this one.
But Krucker also rings in the changes of mood and emotion, structure and tempo with Mary Margaret O'Hara's Body's In Trouble, Leslie Feist's Let It Die, k.d. lang's Hain't It Funny and, of course, the forlorn and classic song Helpless by Neil Young. Along the way, Krucker is magnificently aided by bassist Rob Clutton, pianist Tania Gill and percussionist Germaine Liu. Together the musicians propel Krucker into a rarefied artistic realm where she and her music truly belong.