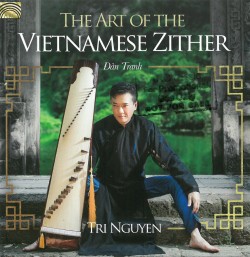 The Art of the Vietnamese Zither – Đàn Tranh
Tri Nguyen
ARC Music EUCD2826 (arcmusic.co.uk)
This album features the subtly expressive Vietnamese plucked zither đàn tranh, which belongs to the widely distributed family of Asian long zithers. Its cousins are the Chinese zheng and qin, Japanese koto, Korean kayageum, as well as the çatkhan of the Khakass of southern Russian Siberia and the kacapi of the Sundanese of West Java, Indonesia.
Born into a family of literati in South Vietnam, Trí Nguyen began his music studies at an early age on the piano with French-trained teachers, eventually continuing them in Paris. His family however was strongly attached to its ancestral Vietnamese culture and also arranged đàn tranh lessons for Nguyen with the noted master Hai Bieu. Nguyen's bi-cultural training positions him well to pursue his goal of taking traditional Vietnamese music to international audiences, combining Vietnamese musics with global genres and instruments. His approach has already garnered success: his 2015 debut album Consonnances won the Global Music Award Gold Medal for world music.
In The Art of Vietnamese Zither, Nguyen draws on this bi-musicality, presenting the đàn tranh in a transcultural context. The closing tracks are up-tempo nods to a world-music style aimed at broad audience appeal in which he adds other Vietnamese instruments, the oud and darabuka (goblet drum).
The most impressive aspect of the album however is the suite presented in the first nine tracks. Effectively arranged for his đàn tranh and Western string quartet, they feature melodies borrowed and adapted from the six schools of traditional Vietnamese music he inherited from his master Bieu.