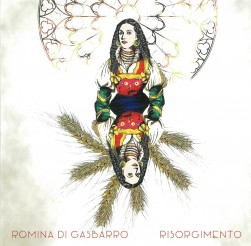 Risorgimento
Romina Di Gasbarro
Modica Music MM0022 (romina.ca)
Multitalented Canadian vocalist/composer/instrumentalist Romina Di Gasbarro stretches her musicianship to the limits in her third CD release. She weaves together ancient and modern music such as folk, jazz, opera, art song and pop, in both Italian and English, to tell old-to-current cultural and political stories. Other than a few text and musical references throughout, such as from Verdi's Rigoletto in 1000 (Viva V.E.R.D.I.), all music and lyrics are written by her with a self-described recurring theme of freedom and control.
This is unique music touching on contrasting styles with something for every taste. The opening Cantu is a short almost chant-like vocal solo with nice tonal modulations translated into English from the Sardinian poem by Grazie Deledda. Kings is more theatrical and operatic in nature, with moving string interludes and plucked string sections leading to English/Italian lyrics driving the storyline. Radio-friendly pop song A Place in the Sun features vocal swells and upbeat rhythms. Taranta is a toe-tapping Italian flavoured tarantella-like song highlighted by held notes and detached rhythms. Dramatic English-language ballad-like Bedouin features Di Gasbarro's enchanting vocals, modern key change modulations and instrumental solos, all supported brilliantly by bassist/producer Roberto Occhipinti.
Di Gasbarro sings with a clearly articulated rich quality in her native English and Italian languages. The recording features acclaimed Canadian instrumentalists too numerous to mention here whose performances add to the detailed artistic musical merits of Risorgimento.