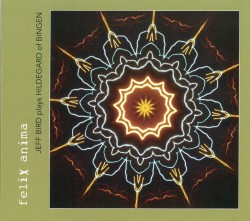 Felix Anima
Jeff Bird
Independent (jeffbird.com)
Canadian multi-instrumentalist Jeff Bird, familiar to many as the harmonica player for the Cowboy Junkies, describes his interpretations of the music of Hildegard von Bingen (1098-1179) as "Man plays 800-year-old music on the harmonica." And so he does, with passion, clear musical understanding and respect on eight of her sacred chants. Bird also supports his harmonica playing with many other instruments like shruti box and lap steel, with special guest pianist Witold Grabowiecki on two tracks.
This is such a rewarding magical listening experience. Bird's perfect breath control on harmonica emulates the original vocal lines throughout all his contemplative arrangements. The opening solo Lovingly Inclined Towards All is amazing from the start, with nice use of drone and musical touches maintaining von Bingen's original stylistic aspects. Noble Rupert is given a reflective performance on harmonica and shruti box, as a low drone note supports the lead harmonica lines featuring dynamic held note swells. The Third Flies Everywhere is an intense harmonica/piano duet tour de force as the resonating very low piano notes contrast a detached piano melody, with the harmonica introduction adding new colour. A mid-piece solo piano leads to duet melodic conversations and an inspiring reflective harmonica line against more florid piano movement.
Bird's decades-long passion for von Bingen's music has enabled him to create a new brilliant sound mix of medieval and modern arrangements for instrumentations that all just work perfectly to the final harmonica closing fade.