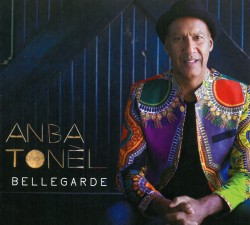 Anba Tonèl
Daniel Bellegarde
Independent (danielbellegarde.com)
Daniel Bellegarde has enjoyed a 35-year career as a freelance percussionist primarily in Quebec. As he explains, Anba Tonèl (Under the Arbor), his first album as a leader, primary arranger and composer, is the fruit of his research on the confluence of European and African musics in the French Caribbean.
In Anba Tonèl, with the aid of nine musicians and five singers, he explores – through arrangements and compositions – unfamiliar musical territory to outsiders: rural French Caribbean music, the result of that hybridization. Dance music represented includes the contra-dance (square dance), quadrille, minuet-congo, and Haitian twoubadou, a popular genre of guitar-based Haitian music. The album aims to evoke the music performed by Haitian and French West Indies slaves during the 19th century and field workers in the early 20th.
Not a synth or drum set to be found here, the lead French Creole vocals by Marco Jeanty are accompanied by all-acoustic instrumentation. We hear the prominent sound of the banjo (which appears to have been played in the Caribbean before mainland North America), violin, guitar, dobro and manouba (bass kalimba-rumba box), as well as percussion instruments from the French Antilles including tanbou di bass (large tambourine), ti bwa (small wooden slit drum), graj (metal scraper) and chacha (calabash rattle).
I'm no expert on the origins or development of this music. As presented here by Bellegarde however, it has considerable range of mood and is full of danceable musical energy and charm; plus it's sung and played with authentic-feeling élan.