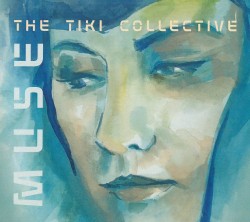 Muse
The Tiki Collective
Vesuvius Music (thetikicollective.com)
For the Tiki Collective's opening salvo, producer Jaymz Bee has assembled a conflagration of noted musicians and chirps that could rival Joe Cocker's Mad Dogs and Englishmen tour. Tenuously classified as "Exotica Lounge Music," the 13-track project is essentially an ensemble of friends (led by musical director Eric St-Laurent) exploring various musical sub-genres, including snippets of surf, retro, jazz, pop and South Pacific Island influences of the 50s Tiki Culture. The tune menu contains a couple of standards such as Chelsea Bridge, rock anthems (the electric-sitar drenched Don't Fear the Reaper) as well as pop hits, including a version of Nigerian/British chanteuse Sade's mega-hit Sweetest Taboo.
Featured vocalists include Genevieve Marentette, Joanna Majoko, Heather Luckhart, the Willows, Lily Frost, Tyra Jutai, Melissa Lauren, Jocelyn Barth, Paget Biscayne, Jessica Lalonde, Irene Torres, Mingjia Chen, Avery Raquel and Danielle Bassels. A few of the fine musicians include St-Laurent on guitar, magnificent and versatile bassist George Koller, Attila Fias on piano, Great Bob Scott on drums, the brilliant Drew Jurecka on violin and Michael Davidson on vibes.
Highlights of this musical pu pu platter include the sexy, dusky, Julie London-esque Harlem Nocturne, expertly rendered by Majoko; the funky-cool Mountain High, Valley Low featuring the laconic, silky vocals of Frost, and Lalonde's touching take on the sentimental WWII hit, I'll Be Seeing You (featuring a stunning solo by Jurecka). Also of note is a queso-dripping rendition of Quizas, Quizas, Quizas (better known as Perhaps, Perhaps, Perhaps) sung in español perfecto by Torres.
Does the musical excess here exceed or succeed? Either way, Muse is an entertaining ride – so have a Mai Tai, and enjoy!