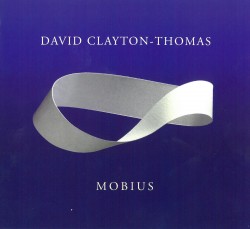 Mobius
David Clayton-Thomas
Antoinette & the SRG ANT549 (davidclaytonthomas.com)
Veteran performer and multi-Grammy Award-winner David Clayton-Thomas has released a new album of original works. After veering off into covers on his last couple of albums, Clayton-Thomas has returned to what made him the force of Blood, Sweat & Tears and an inductee into the Songwriters Hall of Fame.
Although a few of the songs venture into mellow territory, there is plenty of vintage Clayton-Thomas here – rockin' and soulful. With co-writing and arranging from some of Toronto's finest, like Lou Pomanti and George Koller (who also co-produces and plays bass), Mobius opens strongly with Back to the 60s. No wallow in nostalgia, it's a call for young people to come together like they did at Woodstock – and like the Parkland protestors who took to the streets to express their outrage – to bring peace to the world.
A great horn section and a lineup of musicians, who bring a diverse range of sounds and skills to the record, keep the tracks interesting. Eric St. Laurent's work ranges from epic guitar god on the opening track to breezy bossa nova on Carnival, Hugh Marsh turns in a haunting violin solo on Long Night and Larnell Lewis' funky drumming keeps all the tracks in the pocket. The roadhouse rocker Passin' Thru is a fitting closing track and reminder of what made Clayton-Thomas the road warrior he is, still going strong after all these years.