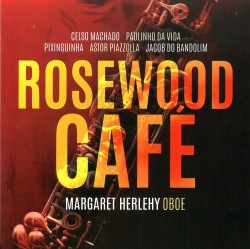 Rosewood Café
Margaret Herlehy
Big Round Records BR8950 (bigroundrecoreds.com)
In Rosewood Café, a small band of Latin jazz performers, fronted by an oboe of all things, presents a sweet collection of songs in the South American popular idiom. Oboist Margaret Herlehy has a lively sense of rhythm and phrase. She matches well with the more typical elements of a Latin jazz combo: drums, guitar and piano.
The CD title gives a good indication of one likely market for this product: it's exactly the sort of fresh sound one might hear for the first time over a latté in the local coffee haunt, played slightly below the surrounding murmur of conversation and clicking of laptop keyboards. One approaches the server to inquire and one sees that it does indeed feature the oboe in this atypical mix, and one revisits one's sense of what exactly the oboe can or should do. It's lovely to hear the pairing of oboe and flute racing to the finish of track six, Diabinho maluco by Jacob do Bandolim, the only really uptempo cut on the collection, by.
Apart from the final track, Astor Piazzolla's Café 1930, the composers featured are fairly unknown to the non-aficionado of popular Latin music, and in spite of a promise of an online listing, neither the disc nor the website provide any great detail about them. Interesting to note that the one most often featured is Brazilian guitarist Celso Machado, who lives, according to Google, in British Columbia.