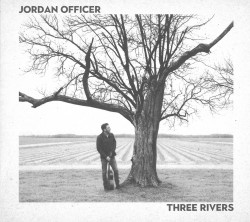 Three Rivers
Jordan Officer
Spectra Musique SPECD-7866 (spectramusique.com)
Perhaps like many outside of Quebec, I first discovered guitarist Jordan Officer by way of his association with vocalist Susie Arioli. First impacted by the authenticity of his guitar playing and by how deeply he had drunk from the well of Charlie Christian, Carl Kress and Django Reinhardt, Officer established a high bar of excellence for guitarists in Canada, playing meaningfully and without unnecessary sentimentality in what I might describe as "roots" music; a performative style that foregrounds acoustic timbres, period-piece instruments and non-digitally mediated sounds to conjure up a place and space of yesteryear.
Said commitment continues here on Three Rivers, but, like many broad musical thinkers, Officer is now beyond genre in his approach. While there are clear flourishes of jazz throughout, this recording is an expansive musical undertaking that employs the blues, country, a connection to hymns, and gospel singing with whimsically expressive lyrics scattered throughout. It sounds like a road album or a travelogue with sights and sounds, all quintessentially American, created sonically or in the mind's eye. I was not familiar with Officer as a singer before this recording, but am not surprised to discover that he is talented, expressive and, most of all, musical in his delivery. This is a thoroughly enjoyable recording, both musically and sonically, and one that should earn Officer heightened accolades and fans.