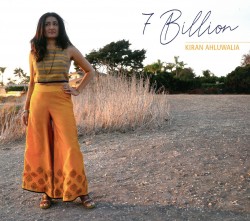 7 Billion
Kiran Ahluwalia
Independent KM2018 (kiranmusic.com)
Steeped in the vocal traditions of India and Pakistan, Kiran Ahluwalia has, in the course of six albums, restlessly explored world music genres featuring collaborations with Celtic fiddler Natalie MacMaster, Malian group Tinariwen, Portuguese fado masters and jazz guitarist Rez Abbasi. Her discs have garnered her two JUNO Awards and other significant accolades.
Over six songs, with music and lyrics by Ahluwalia, 7 Billion explores yet more musical crossroads in search of the human condition with the help of her five-piece band of electric guitar, electric bass, keyboards, tabla and drum kit. "When you take different styles and merge them together… then you're really developing a new hybrid genre," Ahluwalia says. "For me it's important to blur the musical boundaries between my Indian background, influences from Western sounds and… Mali. It's incredibly invigorating when I feel a connection in expressions from different cultures and then figure out ways to connect them seamlessly in my music," she states. Her lyrics speak of realizing female desire without shame, the perils of love, and raging against the institutionalization of religion.
Recorded in a Toronto studio, Ahluwalia's We Sinful Women caps the album. Its lyrics use a 1991 Urdu feminist poem by Kishwar Naheed (translated by Rukhsana Ahmad, the Pakistani novelist, playwright and poet). A powerful indictment of male oppression of women, it's also a rocker with a hook-y chorus, with room to feature driving jazz breaks by electric guitarist Abbasi and organist Louis Simao. It's worth another listen.