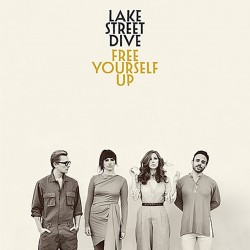 Free Yourself Up
Lake Street Dive
Nonesuch 2 567158 (nonesuch.com)
I first came across Lake Street Dive when I caught their (viral) YouTube cover of The Jackson Five hit I Want You Back, shot live on a street in Boston. I was immediately drawn in by lead singer Rachael Price's throaty, soulful voice. Add to that the four-piece band's tight vocal harmonies, groove and cohesion and I was hooked. But that was six years ago when doing cool covers in jazzy/R&B style was their main thing. Now the group's songwriting is at the fore with their latest release, Free Yourself Up, and their sound has shifted to a more swaggering electric/soul/pop feel. Vocal harmonies, however, are still a strong and endearing feature of the band.
Bass player Bridget Kearney (formerly of Joy Kills Sorrow) did most of the songwriting on the album either alone or with bandmate Mike Olson (trumpet, guitars). Her specialty is breakup songs and she and the band manage to make them driving and soulful yet still melodic, as in Good Kisser and the beautiful Musta Been Something. The songs co-written by Olson and drummer Mike Calabrese are lyrically a little more insouciant but still clever, as in the very funky Red Light Kisses and Doesn't Even Matter Now. Generally the album is a head-bopping ride and I bet this band would be a lot of fun to see live. Details of their extensive tour – including a stop in Toronto on June 25 as part of the TD Toronto Jazz Festival – can be found at LakeStreetDive.com.