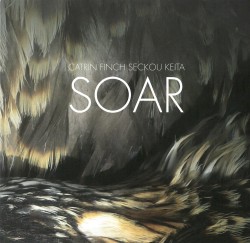 Soar
Catrin Finch; Seckou Keita
bendigedig (bendigedig.org)
Listening to the music of Welsh harpist Catrin Finch and the Senegalese kora player Seckou Keita on their disc Soar, you immediately become part of a soundscape that mixes beauty and visceral energy. It seems as if the multitude of fingers – and the voice of Keita – combine with an ethereal sense of harmonic delineation so that Téranga-Bah (for instance) unfolds with visceral passion and musicality, overt embellishments oscillating between insightful amplification of emotions and mellifluous distractions. Finch's supple facility for rapid passagework is also to the fore in Bach to Baïsso, as is Keita's contrapuntal communicative articulacy, and there is pathos aplenty in Listen to the Grass Grow.
The virtuosic performances by both musicians are breathtaking during the three-quarters of an hour of music, as it continues to echo in the perfection in the strings' intonation as their youthful volcanic talents play with theatrical tautness and élan. Combining ancient modal drones, classical elegance and avant-garde subversion, this duo creates a compelling sound-bed for what often appears to be a myriad of voices of contrasting character. Finch and Keita masterfully work the music of their respective – Welsh and Senegalese – traditions that have seldom come together so gloriously.
This is perfect stuff from Finch, a celebrated harpist whose firm lithe voice and Olympically agile technique allow her to combine dazzling virtuosity with dramatic expression. The same can be said of Keita, whose accuracy and ethereal falsetto seem perfect for this musical collision.