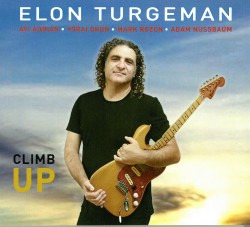 Climb Up
Elon Turgeman
Independent (elonturgeman.com)
The music on Climb Up by the Israeli guitarist Elon Turgeman oozes youthful impetuosity and yet is remarkably poised, bereft of empty pyrotechnical displays or sentimental indulgence. Rather, it is rigorous and driven throughout by architectural acuity, which is why for those of us who have not heard of the guitarist it will come as a welcome surprise to hear how well integrated this work sounds, for the most part at least.
Turgeman's approach to the electric guitar is well-formed and despite his young years it sounds very erudite. The guitarist plays in a style that for all its frequent rambunctious phrases and lines is deceptively limpid, as if his wrists were almost disconnected from the rest of his arms – held together by hyperactive nerve ends that, in turn, control hyperactive fingers that could be urged to dart up and down the fret board almost at will. This is wonderfully displayed on the title song Climb Up and, again, on Paco, a song presumably dedicated to the late Andalusian flamenco-style genius Paco De Lucía.
With the added support of Avi Adrian on piano, Yorai Oron on bass, together with Mark Rozen on tenor and soprano saxophones and the percussion colourist Adam Nussbaum on drums, Turgeman raises the level of his game to a rarefied realm with these painterly, impressionistic studies. Throughout this program Turgeman plays with insightful colours, translucent introspection and fantasy – and instrument and recording are beautifully married too.