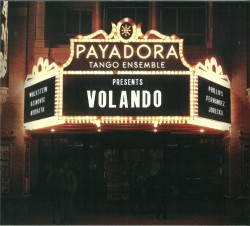 Volando
Payadora Tango Ensemble
Independent (payadora.com)
Payadora Tango Ensemble has made a memorable mark on the Canadian music scene with their accomplished ensemble playing and toe tapping energetic versions of the Argentinian tango, the form the world loves to listen, play and dance to. The group – Rebekah Wolkstein (violin, vox), Branko Dzinovic (accordion), Robert Horvath (piano) and Joe Phillips (double bass) – now expands its tango horizons with a wider compositional cross section.
The traditional tango is represented by the perfect performance of Adios Muchachos/I Get Ideas. The Adios portion is a more traditional performance with guest vocals by Elbio Fernandez. Then a walk on the jazzier side happens as Wolkstein sings the English words to great bass meandering explorations and piano tinklings. There are two original arrangements of Argentinian folk songs, but most fun is hearing Brahms step across the dance floor in the unique Horvath arrangement of Hungarian Dance No.1.
There are three original tunes. The slow reflective opening of Drew Jurecka's Niebla Oscura features high accordion tones against a violin melody, and lower accordion tones against piano chords. Longer phrases and mood shifts lead into a sneaky final tango piano section. Horvath's Tavasz goes from reflective opening piano to tango. Wolkstein's Volando is more contemporary with accordion shots, metrical piano groove and a soaring build to the final violin glissando.
Each musician is a star soloist in their own right. Playing together has allowed them to develop and mature turning Payadora into a superstar group.