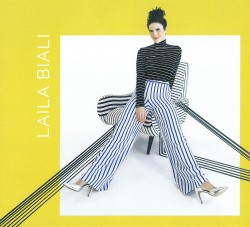 Laila Biali
Laila Biali
Chronograph Records CR-060 (chronographrecords.com)
The intense emotional realms that the music of Laila Biali inhabits pay tribute to the ecstatic world of Sufi poetry, the kaleidoscopic one of pop metaphors and to one where her own enduring spirit prevails. Each of the 12 songs on this disc probes joyful and profound corners, allowing us to enter into these private worlds in which ebullience and hope are conveyed in striking terms. Biali evokes dramatic and psychological atmospheres as if both Jalaluddin Rumi and David Bowie were looking over her shoulder, but with her own sense of urgency, rhythm and colour.
The disc opens with the joie de vivre of Got to Love and closes with an equally exuberant version of Let's Dance. In between, Biali evokes many-splendoured romantic images and daubs these vividly coloured recreations with a seemingly infinite array of vibrant and melancholy musical idioms – including the profound and the soaring gospel-driven. In Wind and Dolores Angel respectively, her captivating vivacity rules the roost among a stellar cast that includes vocalist Jo Lawry, drummer Larnell Lewis and trumpeter Ambrose Akinmusire.
Individual listeners – depending on their familiarity with Laila Biali – will no doubt find a favourite track to latch onto here but each has its own charm. And every one of the 11 musicians' performances – vivid and articulate – seize the attention as they exercise their skills alert to the expressive need of the vocalist and pianist's bold and emphatic art.