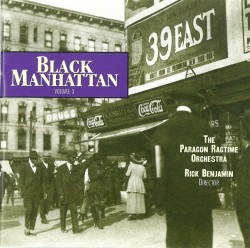 Black Manhattan, Vol.3
Paragon Ragtime Orchestra; Rick Benjamin
New World Records 80795-2 (newworldrecords.org)
Years ago Rick Benjamin, the conductor of the Paragon Ragtime Orchestra, was thrilled to discover a rich horde of sheet music of African American composers working in New York City during the half century from the late Victorian era to the Harlem Renaissance.
Searching for their recordings however, he found remarkably few examples documenting this pioneering African American music. At the roots of ragtime, jazz, period social dance, musical theatre, silent cinema and the Great American Songbook, he felt this music was being unjustly neglected.
Three Black Manhattan albums later, PRO has recorded 60 pieces by 32 African American composers, using "carefully curated, new recordings of first-rate performances played from authentic scores." Volume 3 contains theatre songs and instrumentals by 21 different composers. Some are relatively well known today (Scott Joplin), yet most have largely been relegated to music history's back pages.
If I had to pick one selection, it would be the beautifully perfect ballad Love Will Find A Way from the Broadway show Shuffle Along (1921) by Eubie Blake and Noble Sissle. (I had the good fortune of chatting with Blake after his solo piano recital at York University in the early 70s. It's one of my cherished early musical memories. Mr. Blake was in his 90s. I was… younger.)
It seems to me that Benjamin's wish that his "efforts have started to close this gap in America's cultural memory" and "enable the world to rediscover this magnificent music" is admirably served by this album.