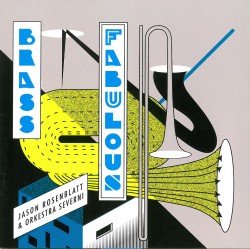 Brass Fabulous
Jason Rosenblatt & Orkestra Severni
Independent (rachellemisch.com)
Founded in 2009 by trombonist Rachel Lemisch, the Montreal-based Orkestra Severni (Northern Orchestra) performs brass band repertoire of Klezmer, Moldavian and Serbian traditions. Besides their great energetic performances here, what makes their debut release even more exciting is that all 11 tracks are original works rooted in the new Eastern European music genre by composer/pianist/harmonica player Jason Rosenblatt.
Rosenblatt's compositions embody many styles. The opening Sirba from the three-movement Sirba a la Oscar is driven by fast upbeat rhythms that are always in control. A great effect is having its final cadence resolve into the introduction of the next movement, Hora, a work comprised of more traditional-sounding melodies, rhythms and exquisite dynamic shifts. The striking rhythmic bounces of the silences between the resounding brass shots in the third movement, Freylach, showcase the musicians' tight ensemble technique. Rosenblatt Kid's Contra features a descending chromatic line that makes for happy walking music with a carnival feel. Nice style contrast is Chassidic Love Tango, with its traditional tango groove interspersed with brief three-quarter waltz sections. The closing Anshei Brzezan Nign has a lullaby-feel ending with sublime held-piano sounds.
All the accomplished band musicians, along with special guest Ben Holmes (trumpet) play brilliantly. Sound quality is great too. Brass Fabulous lives up to its name. This a spectacular addition to the brass band repertoire, well deserving of lots of fans and of lots of listening hours.