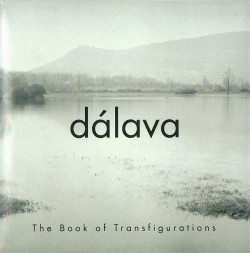 The Book of Transfigurations
Dálava
Songlines SGL 2408-2 (songlines.com)
About the group Dálava, reviewer Mark Tucker wrote, "… I was both chilled and thrilled by the fusion of avant-garde, ancient, and progressive musics…" After listening to their second album The Book of Transfigurations, released on the Vancouver boundary-crashing Songlines label, I'd have to agree. Dálava's project crosses and combines several genres, disciplines, generations and continents. At its core is the duo of American vocalist Julia Ulehla and guitarist Aram Bajakian (known for his work with John Zorn and with Lou Reed). Musical and life partners, they perform Moravian folk songs of the 19th and early-20th century transcribed over 100 years ago by Ulehla's Czech musicologist great-grandfather. The songs are then transfigured through their 21st-century sensibilities, informed by world music, creative jazz and post-rock.
Ulehla is currently working on her PhD researching Moravian song with UBC ethnomusicologist Michael Tenzer. Her scholarship is amply illustrated in the lavish 36-page booklet (including original lyrics with English translations and commentary) and it richly informs Dálava's interpretations. As for Bajakian, he keeps busy gigging on guitar with other bands, including the American-Hungarian folk/art-rock band Glass House Ensemble.
The duo's music, while a profoundly personal statement, is also emotionally supported and amplified on the album by leading musicians on the Vancouver creative music scene: cellist Peggy Lee, Tyson Naylor on multi-keys, bassist Colin Cowan and Dylan van der Schyff on drums.
Ulehla and Bajakian have reportedly already made a splash in the Czech Republic with their live interpretations of this material. I predict Dálava's affective music will gain many more global fans with this release.