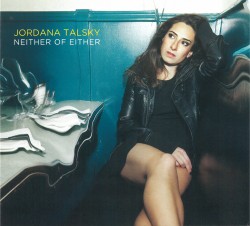 Neither of Either
Jordana Talsky
Independent JT-17-02 (jordanatalsky.com)
Although Neither of Either is the second album released by Jordana Talsky, it feels a little like a debut, since this one is almost exclusively original songs. The Toronto-based singer-songwriter (and lawyer) teamed up with JUNO Award-winning producer, Justin Abedin. It's a happy collaboration, for although the songs are harmonically and rhythmically straightforward at their heart, the textures added by the arrangements and production lend complexity and richness.
The predominant style of the album is indie-pop but there are touches of jazz and soul throughout, making it an interesting listen. It's even a little bit country on Ways, which has a hook worthy of any Nashville hitmaker. Sick veers into fist-pumping rock-song territory except it's done almost all a cappella, which gives it an unusual twist. The techno-tinged Bitter Sweet Heart (co-written with J. Gray) is another standout with its pretty chorus.
Talsky's voice is warm and appealing – powerful when needed, at times pure and sweet – and her style is refreshingly free of artifice. Her singing and arranging skills really shine on the unaccompanied pieces (like her take on Alanis Morissette's You Oughta Know, the only cover) where it's all her – no other singers, no band – and it's impressive.