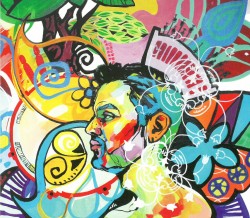 Na Eira
Marito Marques
Independent (maritomarques.com)
Review
We are oh so very lucky to have the Portuguese-born percussionist/composer/producer/arranger Marito Marques residing in Toronto now. If you can't catch him live, his multifaceted talents are showcased on this, his third CD release. His musical sensitivity shines throughout this jazz/pop/PALOP roots music project which features a plethora of 15 international and local world-class performers playing at their very best.
Marques' most striking talent is his ability to adjust his performance depending on the context. In Dia Chuvoso, his funky rhythms and continuous driving spirit timekeeping are in the forefront yet never overpower the sing-along vocals and instrumentals from the band members. In contrast, the slower ballad-like Rosa features the versatile soaring vocal lines of Senegalese Woz Kaly beside sensitive accordion lines by João Frade while Marques, acoustic guitarist Munir Hossn and bassist Rich Brown provide a subtle backdrop. The aptly titled Bird's Shadow features flutist Jorge Pardo on rapid warbling lines, held notes and wind duets with accordion, with Marques' busy drums, percussion and programming setting the mood. Ernie Tollar's superb bansuri playing is featured in the title track while vocalist/lyricist Yvette Tollar sets the upbeat mood in the more pop/jazz standard-flavoured Scábias.
There is never a dull moment as Na Eira ("the threshing floor"), with artists too many to mention, weave together the traditional with the contemporary, the popular with the folk to create a truly unique listening experience.