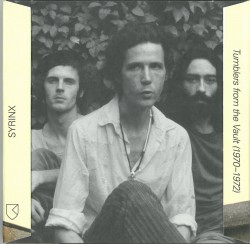 Tumblers from the Vault
Syrinx
Rervng RWRVNG08 (igetrvn.com)
In Tumblers from the Vault, series conceiver William Blakeney continues his collectively titled JMC Retrospective 1967-1977, highlighting the early career recorded music of John Mills-Cockell. A Toronto-born composer, keyboardist and pioneering synthesizer performer, Mills-Cockell was not only an early adapter of the modular synth – he purchased a Moog Mark IIP the same winter of 1968 when the American studio synth trailblazers Wendy Carlos and Suzanne Ciani acquired theirs – but he also swiftly put that early model synth to good use in live performances across Canada and the USA. Furthermore, it featured prominently on the Intersystems albums reissue reviewed in these pages last year.
By 1970, Mills-Cockell's next music project had emerged: Syrinx was a trio which included two other Toronto musicians, saxophonist Doug Pringle and percussionist Alan Wells. Armed with Mills-Cockell's compositions and suffused with his increasingly musically confident synth performances, in a couple of years they produced the hit single Tillicum as well as two successful albums Syrinx and Long Lost Relatives. Tumblers from the Vault has carefully remastered those recordings and added previously unreleased material. Dissolving by 1972, during that brief period they managed to merge many music genre threads. I can hear traces of experimental, classical, psych-rock, global influences, proto-ambient, pop, funk and jazz all delivered with a sensitivity for memorable melody, timbral exploration and technological innovation.
I find in the new tracks some of the most musically engaging moments of the box set. These include the extended demo version of December Angel in an ever-evolving dance-friendly 6/8, and particularly the adventurous four-movement, 26-minute Stringspace (1971) for string orchestra, percussion and Syrinx trio. This, the most ambitious work here, points to even larger Mills-Cockell projects yet to come.
As Nick Storring offers in his insightful liner essay, "Syrinx's music is more than a faded strain in Canada's consciousness […one that] has never expanded universally." Can Tumblers from the Vault elevate the short-lived Syrinx to a "place in the wider canon of groundbreaking music, so its story can be appreciated beyond the limits of Canadian notoriety," as posited by Storring? I can't say. What I can is that this music from the last century welcomes us to imagine listening to future music which flows freely and amicably across multiple genre boundaries.