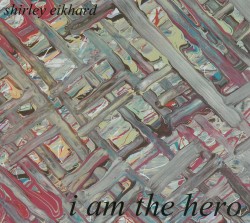 I Am the Hero
Shirley Eikhard
Independent (shirleyeikhard.ca)
Review
Singer/songwriter/instrumentalist Shirley Eikhard has been a popular and successful mainstay of the Canadian music circuit for decades. In this, her "20th record of new performances," she multitasks and does practically everything, from singing the lead and backup vocals to her own songs, playing all the instruments, producing, and painting the CD cover art, with help in artwork/design from Catherine Osborne, and mixing and mastering from George Seara.
This is a very personal musical journey and gift to us, the listeners, as Eikhard touches on her country, jazz, folk and reggae influences and weaves elaborate stories in her lyrics. The tragic love story of My Diego unwinds like a bestseller murder mystery novel set to upbeat toe-tapping music. Likewise the title track, I Am the Hero is an illuminating look at self-exploration. In contrast, the instrumental Carmen's Revenge proves Eikhard is equally stunning in both lead and improvisational instrumentals in this funky, jazz-tinged track, though a list of what instruments are being played would have been greatly appreciated. Closing track Comforts of the Country is hit material as it combines great lyrics, vocals, upbeat melodies and grooves.
Eikhard is a master of creating satisfying sing-along, ear-worm musical hooks that resonate long after the CD is back on the shelf. It may be too pop for one's tastes with looping melodic sections and the typical three-minute, radio-friendly track length, but this is really, really fun music!