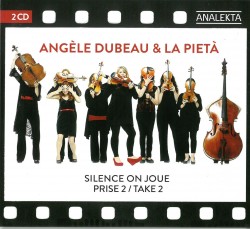 Silence On Joue Take 2
Angèle Dubeau & La Pietà
Analekta AN 2 8743-4
Review
Quebec violin star Angèle Dubeau has chosen diverse movie music to perform with her ensemble La Pietà in this double-CD release which marks a number of personal milestones and is dedicated to her audience. CD 1, named Sweet, features 15 tracks of a laid-back variety, while CD 2 named Salty, has 12 more toe-tapping tracks. The clever arrangements are true to their soundtrack roots and highlight the strengths of Dubeau and the strings, harp and piano performers.
Initially I questioned the separation of Sweet and Salty styles but then I was never bored listening. Highlights from Sweet include Unchained Melody – Orchestral from Ghost with a soaring opening violin line leading to a colourful instrumental trading off of the famous earworm melody. And what is movie music without the familiar, strings -friendly music like Suite Harry Potter and John Williams' Across the Stars from Star Wars – Episode II: Attack of the Clones. The minimalistic harmonic and broken chord changes driving Einaudi's Sotto falso nome succeed independently even without its closely linked visuals. From Salty, Tubular Bells from The Exorcist actually works without the original percussion, while If I Were a Rich Man from Fiddler on the Roof is a natural choice with Dubeau's great violin playing of the famous melody against an upbeat backdrop.
The diverse, easy listening music never feels lost without the visuals, which is a great reminder of the talents of film composers, performers, arrangers and producers. Listen and celebrate Angèle Dubeau's exceptional musicality, phrasing and technique across the styles!